Sunday Morning Frittata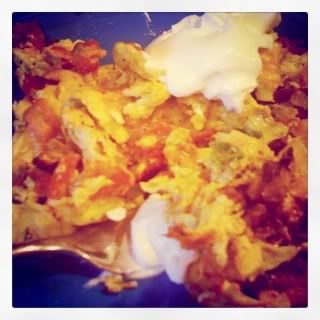 Ingredients:
Olive Oil
1 Tbs butter
4 strips of center cut bacon
1 anaheim pepper, seeded and chopped
2 green onions, chopped
5 crimini mushrooms, chopped
4 eggs, whisked thoroughly
2 slices rustic bread, cut into 9 cubes each
salt and pepper
Preheat oven to 375 degrees. Cook the bacon to how to like it and set aside, reserving the bacon grease. When bacon is cool, break up into pieces. In a small saute pan, heat up a little olive oil over medium high heat. Add the mushrooms, green onions and pepper and cook till mushrooms are soft. Turn off heat and set aside. In a medium oven-safe saute pan, add some of the bacon fat and heat up about 2 Tbs of olive oil. When hot, add the bread cubes and toast on all sides. Add the butter. When melted, add the eggs and stir just a little bit. Let sit for about 30 seconds or so and add all the other ingredients and stir a few times. Let sit for a minute and then put the pan in the oven for 5 minutes. Serve with sour cream.