Several years ago I was at a Christmas bazaar and I saw these cute little scarves with spade shaped ends that looped through each other. Unfortunately they were made with crummy craft yarn and the colors were pretty bad, but I really wanted to make one. I totally forgot about them until I stumbled upon a
pattern
on Ravelry.com.
I made my first one with leftover Vanna White yarn, I think. It's great because it uses very little yarn and I can lower my stash and still make something useful and attractive.
My coworker really liked this style, so she picked out some baby alpaca and here's her ascot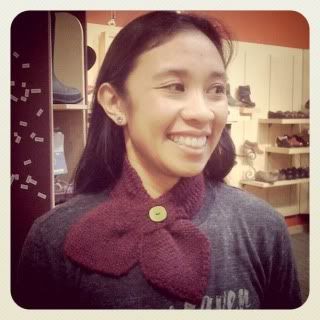 I love this yarn, but I think this pattern needs a manmade fiber. I think the alpaca is going to stretch out too much.